In migrating my newsletter away from Substack, I'm tossing up a previous example here. This is from December 2019.

—–
Kenning knew from the start that the sawzall wouldn't be enough.
That's not to say that it had failed its current purpose. The reciprocating sawblade chewed hungrily along the steel pole's diameter and the pole leaned ominously. It would soon topple, and the surveillance cameras and antennae arrayed at the top would smash across concrete. But from the first high, ratcheting whine of the sawzall cutting into steel, Kenning could feel her hunger for next steps grow.
Early suggestions Kenning collected centered around circular saws. Experimentation in her cold warehouse workshop taught her circular saws kicked too much and didn't allow for the fine-grained control she desired.  They did do better in one area, evident from the first images she saw of a protester toppling a similar "smart" surveillance pole: the flair, the melodrama of a thousand tiny explosions showering the sidewalk. Sawzall instructions for cutting through metal all advised the opposite: if you see blue, if you see flames, if more than a few sparks appear, you're running the saw too fast.
And so Kenning's variable-speed sawzall growled at the highest speed she could manage.
Sparks poured forth, a turbulent parade of combustion bouncing and flashing. They ricocheted off the blade and her heavy-gloved hands to blacken the pavement as the crowd stood back to watch. The crowd saw her, and didn't see her; other cameras saw her, and didn't see her. From every angle a cascading waterfall of images reflected off her jacket, a series of physical holograms that shifted depending on reflections to feed a constant stream of bad data into the facial recognition and automated license plate reading systems in the area. A projector mounted a few inches in front of her forehead refreshed several hundred frames per second to constantly paint her mask with new faces, new expressions, all cast around the impassive darkness of safety goggles.
Two thirds of the way through the pole. Three quarters. All the internal cables severed, the camera atop sat dumb and defanged, and the radio gear tracking nearby mobile phones hissed down to silence. Kenning pushed against the saw harder to finish and it began to catch the far edge of the pole. Hardened metal teeth scored across more steel to light up the crowd in a fresh conflagration, and Kenning knew her heart demanded more.
The city installed the poles six months back under a federal grant. "Smart lamps" to provide light and wifi in the government and financial district. Smart enough to also contain a camera reporting back to an AI matching faces and classifying objects and activity (here a purse, there a dog on a leash, here a protest sign, there the drunken swagger of public intoxication). As protests had grown so had arrests, and Kenning had had enough.
If Kenning concentrated on the sparks she could hold back the grief; she imagined each spark a burst of anger within her, a new flare of energy. Tallie wouldn't occupy the forefront of her brain as much. Tallie – their short hair cropping a sad, sweet smile. Tallie wallflowering while Kenning held court among friends. Tallie who had already been through so much danger and hurt. Agents caught Tallie on the street the month before and deported them.
Kenning felled her third pole in two hours. Each spark ignited a new explosion in her chest. From that alone she knew this wouldn't be enough.
---
---
You'll hear more from Kenning at the end of this email.
Hi, I'm Ian, and you've subscribed to my newsletter. I've worn a lot of professional hats – IT engineer, tech support grunt, 911 dispatcher, survival skills instructor – and covered a lot of ground, from central Massachusetts to Capitol Hill to Silicon Valley. I write fiction (mostly speculative, scifi, or urban fantasy) as well as about tech and society and mental health. I'm also a voracious reader of fiction and non-, and more Extremely Online than I'd like to be. In this and forthcoming issues I'll be sharing what I've discovered previously, what I'm exploring now, and what I hope to dive into in the future.
This week's newsletter contains the following multitudes:
Of Note – To start off with, 3 short items worth interrogating.
Incoming Fire – The edge of battlefield technology is no longer out of reach.
Ring, Condensed – Short non-preachy version of why Ring cameras are bad.
News and Links – Security, Privacy, Disinformation, Drones, Politics.
Wrapup – Exactly what it sounds like. And after that, we check back in on Kenning.
Of Note:
In one of the most-Boston stories ever, a man attempted to steal a truck full of lobster in Charlestown. Not the first lobster heist in the area I'm aware of, mind you.
This piece hit me in an incredibly soft and important place: Questions to Ask Yourself Before Giving Up.
Sarah Chavez relayed this series of astonishing sculptures on loss, grief, and growth:
Incoming Fire:
Earlier this week a learned colleague pointed me at the existence of sensor-fuzed weapons, smart cluster munitions that intelligently seek their target and when overhead, use shaped charges to fire explosively-formed penetrators downward to devastating effect. Explosively-formed penetrators are one of the things that make Iraq-area improvised explosive devices so deadly as they form and supercharge a slug of metal to pierce through most armor on offer, including tanks. SFWs are not new but they are new to me – and the idea that one would smarten EFPs, cluster them, and float them down on parachutes before striking fascinated and terrified me.
Apparently there's a vehicle-mounted TOW missile version too.
I immediately thought about MRSI – Multiple Rounds Simultaneous Impact – an artillery method for multiple weapons in different positions adjust their trajectory so that each shot hits the target at the same time. Here's a youtube video with a quick explanation of it. There are now self-propelled artillery pieces that can accomplish MRSI all on their own, firing five shells over a period of less than a minute with a trajectory automatically calculated to achieve simultaneous impact. Just an incredible, devastating amount of firepower.
Military analyst Qalaat Al Mudiq posted an incredible DIY-ish makeshift weaponized drone deployed by Syrian rebels in Salamiyah, images at link. The pulled-together nature of the thing quickly reminded me of this 2013 image of Syrian rebels using the accelerometers in an iPad to help position a homemade mortar. A little further down a similar timeline, a Ukrainian defense company debuted a shoulder-fired rocket in 2016 with a guidance system based on a Raspberry Pi, the popular microcomputer that's found all sorts of uses – including weapons guidance. There are already instructions available for creating an autonomous quadcopter drone with an R-Pi (credit to a friend with a locked twitter account for providing that link).
I bring this all up to note that we're not that far from home hobbyists (or war-surrounded rebels) from being able to cludge together their own versions of weapons systems the Pentagon has doted and salivated on for ages. Float a $200 drone over a target and let it fly itself via the $30 Raspberry pi, then deploy the smart pucks to fire EFPs from overhead across an area, or directed at a single point. Backyard development would be cheaper and faster than I'd like to think about.
Ring, Condensed:
There's been a lot published lately about Amazon's Ring security cameras. As someone keenly concerned with privacy and security I recommend against Ring products, but as someone who works with users day in and day out I feel it's important not just to shout this out from the mountaintop but provide information to people without making them feel spoken down to. Security works by adapting available tools to a particular target's threat profile and not everyone's threat profile is the same, but the following stories about Ring lead me to believe that it only harms security on the whole, whether you're Extremely Online And Okay With It or more of a tinfoil hat-wearer like me. The following is worth considering:
Police access to Ring videos is of concern to some, but it's understandable that others aren't bothered by that. This goes back to threat modeling above. But it's always worth talking about so you understand the decision you're making.
Ring has partnered with multiple police departments to endorse their product while at the same time limiting what police can say about Ring by way of secret agreements. This alone provides pause, but there's a whole lot more.
Gizmodo: Ring's Hidden Data Let Us Map Amazon's Sprawling Home Surveillance Network. In which Ring's publicly available data managed to out the location of tens of thousands of their cameras.
Vice: How Hackers Are Breaking Into Ring Cameras. Including video of a hacker talking to children through a camera installed in their bedroom, while the hacker is able to see (and record) everything going on.
Vice: We Tested Ring's Security. It's Awful. In which experts show that Ring has not implemented basic security measures to prevent hackers from accessing the devices.
And in response, Ring blames its users. And they also offer objectively poor security advice to users. That response alone makes me leery of any product they will ever offer. The EFF detailed Ring's poor response and also highlighted that because of Ring's failure to provide basic security features more than 3,000 Ring accounts were already being dumped online/put up for sale.
Hopefully that was helpful. Make your own decision – but make it informed and with a healthy dose of skepticism across the board.
News and Links
Security:
One of the most popular messaging apps in the Apple and Google app stores is a spying tool for intelligence agencies in the UAE.
Privacy:
The New York Times has had a hell of a week with some amazing work on mobile phones and user location data. They produced two fantastic interactive articles, one on location data in general – including at sensitive places like the Pentagon – and another interactive piece specifically on how they deanonymized the tracking data for what looks to be a Secret Service agent in Trump's protective detail, allowing them to track the President himself.
Baltimore Police, in a city recently devastated by ransomware attacks due in part to a miniscule IT budget, in a police department that recently paid a contractor six figures to help it keep using Lotus Notes, is seeking to put three private surveillance planes in the air over the city simultaneously. The planes will track the populace to create a record through which past crimes can be investigated, so says the police commissioner.
The Pentagon sent out a memo this week urging service members to not use commercial DNA testing or ancestry testing kits as a matter of security. The memo specifically cited the danger of exposing genetic information to outside parties as an operational risk. Consider as a single example the idea that connections could be made between an intelligence operative's previous and current assignments through something as simple as a coffee cup left on the table after a meeting.
Amazon added a function to its Alexa voice assistant devices to "change the subject" during family holiday arguments, a reminder that your devices are actively listening to your family holiday arguments.
Also, these came within minutes of each other:
Disinformation:
Facebook discovered and shut down a network of fake accounts with a reach of 55 million views that used AI-generated pictures in an attempt to evade detection. If that weren't strange enough, its origin is the media front-company for a Chinese cult that has elevated Trump to a religious level of importance as their savior versus the Chinese government.
Robots & Autonomous Vehicles:
Robot researchers were able to build a physical abuse prediction model based on how many children were around, and the proximity of adults. In the case of multiple children, as the video shows (sort of heartbreakingly if you have the tendency to anthropormorphize robots), the robot gravitates to adults to lower the probability of abuse.
Self-driving Mercedes cars will be explicitly programmed such that if they crash, pedestrians will be sacrificed for the sake of the car's occupant(s). Capitalism provides a definitive contextual answer for the trolley problem.
Drones:
CNN's Ben Westcott relayed a piece from the South China Morning Post about a pig farmer having to turn over illegal drone-jamming equipment interfering with civilian aircraft. Again this story gets much weirder: the farmer set up the equipment to prevent local gangs from dropping via drone swine flu-infected items into its livestock to infect them so the gangs could buy the pigs cheap from the farmer and sell them at a profit after passing them off as healthy pigs.
From Maderas, a Norwegian sniper deploying a small UAV in a battlefield scenario: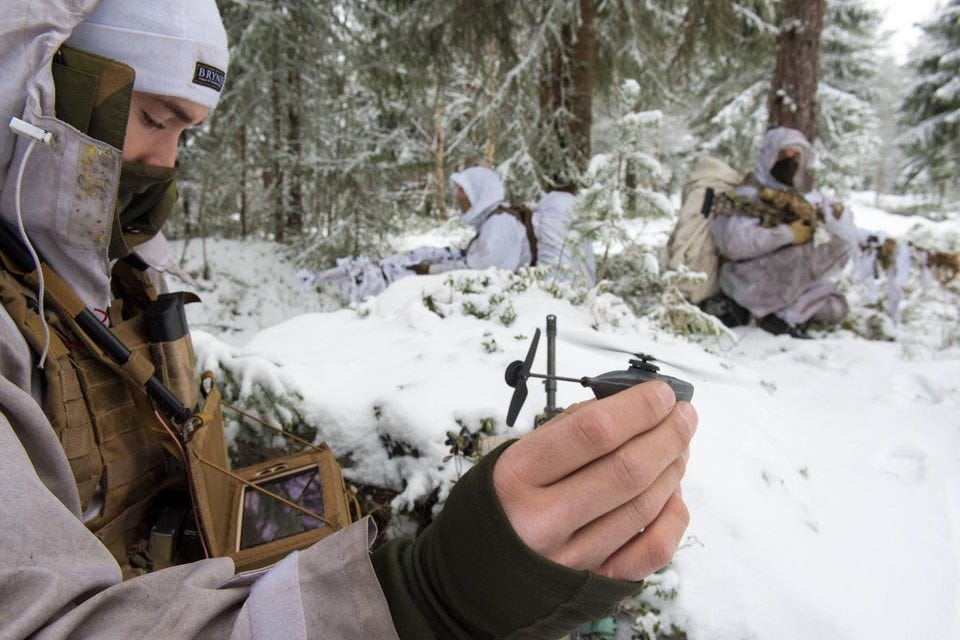 Politics, or Documenting the Decline:
Five top Pentagon officials announce their departure in seven days.
Christianity Today published an editorial by their Editor-in-Chief calling for Trump's removal.
The National Review, the conservative magazine founded by William F. Buckley Jr., published an editorial by a senior editor calling for Trump's removal from office.
Ukraine aid was withheld 91 minutes after Trump's "perfect" phone call by an official from the White House Office of Management and Budget.
Brandon, Manitoba police – in a city of less than 50,000 people – announced their acquisition of an armored vehicle. Apparently one of our sicknesses has crossed the northern border. The problem with this kind of gear is the invariable use-creep to justify the initial expense, training, and upkeep costs, so you go from deploying only in X situations to deploying it in X, Y, and Z, and sometimes A-W situations if it hasn't been out enough lately.
It's been five years since the mind-bendingly dystopian images from the Mall of America protests: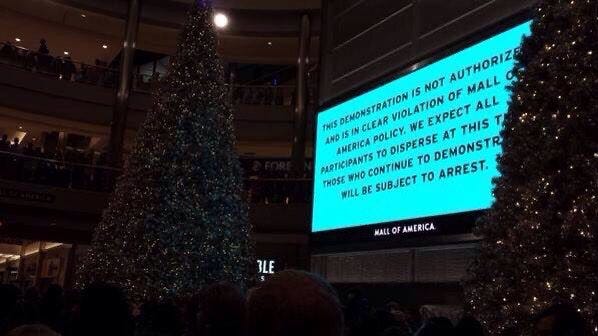 Wrapup:
Currently Reading:
Fiction – Infinite Detail by Tim Maughan
Nonfiction: The Art of Darkness: Deception in Urban Warfare by Scott Gerwehr and Russell W. Glenn
Blank Spots on the Map: The Dark Geography of the Pentagon's Secret World by Trevor Paglen
Thanks for tagging along with me this week. I hope you'll stay for what comes next. But for now, we need to look back in on Kenning:
---
---
Two months after the first pole fell Tallie's emails stopped.
Depression slowed them after the first month. A feeling of futility had gripped Tallie, convinced them that perhaps resistance and happiness were mutually exclusive. Kenning forced herself to lovingly push back even as the knot in her chest wound so tight that it vibrated. This was a different Tallie than she had known but being arrested, beaten, and deported to a country they had barely known took a toll Kenning could barely fathom.
Kenning spent most of that two months in her workshop. Tools to be made, tests to be done. Hazardous substances to be secured or synthesized. School no longer mattered; the classes became less than one-dimensional in the face of losing Tallie's closeness. Tallie warned her off following – the trouble it would make for their family should be avoided. So Kenning toiled and planned and smoldered in solitude.
After Tallie's arrest they reconnected where they had first met – college. Authorities almost certainly intercepted everything on the .edu servers their emails passed through so despite Tallie's occasional prod Kenning kept relatively quiet on her work. Then the communications began to fall off, as Tallie drifted deeper into distress and fatigue. Something about that last email before they stopped, though, had irked Kenning. Had triggered a miserable unspoken sense that lit up her nervous system like a Christmas tree.
At one point in the email Tallie mentioned Kenning's father in passing. And that hadn't happened for two years. It could've been the brain fog that comes with depression but Kenning didn't buy it and so she did something she should've done two months previous. She slipped through a security backdoor into the university's mailserver and dug through the logs searching for records to verify what anxiety already snarled in her ear.
One week later found Kenning laid prone in the snow, swaddled in a matte black thermal blanket becoming more and more progressively stuck to the ground. Freezing rain popped percussively across the terrain. She wiped the monocular lens and checked again. An already-dismal airport in the midst of a grim winter weather event, two brightly-lit hangars set apart from the other facilities. Runways glittered with the flashing of various lights but the crews had given up the task hours ago; a raucous storm blowing through forced the two planes to suspend operations and everything slicked over for the time being. It would be reclaimed tomorrow with sun, salt, and sand.
The city's two surveillance airplanes sat dull and unmanned inside. Sophisticated sensors meant to record as much as possible of the air and ground below, from signals to movements, were no match for an early Nor'Easter. Contracted through private companies with dubious connections to local politicians, one plane flew over the city at any given time to record for later investigation. Selling the aggregated data only sweetened the deal for city officials, of course. Now both planes sat and waited for the rain to end.
Kenning fired off a few commands from her handheld. They would've changed everything, but everything was already changed. Otherwise she wouldn't be there in the first place.
Unseen, a quadcopter rose at the far corner of grass surrounding the airport. The corner closest to the police hangar and farthest from the rest of the facility, and surprisingly unmonitored beyond the fence. Preprogrammed, drilled, simulated across a hundred scenarios, the quadcopter swiftly rose to a few hundred feet and sped across the open space. She wasn't sure how much time she had – the freezing rain constituted a brand new complication.
Gamble, gamble, gamble, Kenning thought. Time to roll the dice.
Half a dozen small dark circles dropped from the drone over the police hangars. Parachutes puffed out despite the cold and rain and she breathed a sigh of relief. They floated down slowly and had surely been detected by now but it didn't matter. The parachutes self-directed with fans and sensors to arrange themselves.
Folks certainly deride the teaching of algebra, and with good reason. The common (and honest) refrain is "When the hell am I ever going to use this in real life?" It turns out that in most circumstances algebra is useless. Pythagoras holds little relevance across most disciplines. But in teaching a smart weapons system to achieve a firing solution without human intervention, Kenning found, algebra is crucial.
The university email servers had embedded in Kenning a Brand New Fear, and with it a New Anger. Pouring through the poorly-protected mail records she confirmed that the emails came from Tallie's account, sure enough. But they hadn't originated there. Each email arrived in another mailbox, whereupon an automated script had carefully re-spooled it as coming from Tallie. With increasing desperation Kenning moved from instance to instance and found it to be true for every email, all the way back to the first Tallie had sent assuring Kenning they had reached their family in Mexico safely, if not happily, and signal strength was so bad only text communication was manageable.
Tallie hadn't sent a single email.
And another crashing realization: Tallie hadn't been deported at all. They were elsewhere, indisposed, and someone had been trying to convince to Kenning to give up under their name.
Small parachutes floated over the police hangars, now, a bit more bedraggled than Kenning would've liked. But the cheap guidance systems onboard found a collective sweet spot and fired near-simultaneously. Within each device a small shaped explosive charge detonated, superheating and shaping the copper core within and then propelling it downward. Sudden puffs of black smoke amidst the dismal gray marked each device going off from above. Molten metal spikes penetrated the roof and drove straight down through the planes. Instrumentation, propulsion, and hydraulic systems were the targets – Kenning had spent countless hours learning about the planes and mapping them out in their hangars. The surveillance birds would be as near a total loss as she could get without more firepower. With about two thousand dollars worth of gear and two months on her hands, Kenning felt pleased with the result.
She also felt different. Not only Tallie's arrest but the discovery that they were still in danger changed her; she herself felt turned into a shaped charge, felt the core of her being turned molten and jagged and propelled. She would keep going until she struck something harder than the tungsten spike she felt.
But of course, she had sent multiple commands over her handheld. One sent the autonomous quadcopter with its sensor-fuzed weapons on its mission.
The second command activated cheap microcomputers drone-mounted in high, inaccessible areas around the city. Thirty dollar chips hooked to radio equipment that began interfering with aircraft guidance systems – not providing false readings, but blocking entirely. ADS-B GPS would probably be hampered near the city for weeks until each was found and deactivated.
The third command dumped the full email records of deportation agents to local and national press, along with server recordings from the push-to-talk cellphone app they used to circumvent records requests.
The fourth command shook cryptographic hands with the for-some-reason internet-connected emergency generator at their headquarters and convinced it to rapidly turn on and off, over and over, until it exploded.
The final and fifth command uploaded how she did all this, how to poison surveillance data, how to neutralize tear gas, the best way to cut down a surveillance pole, and how to do more, to her website at www.comeatmebro.ooo – along with another message.
"I'm coming for Tallie."
She wanted them to know.